The lawyer who has been dubbed "DuPont's Worst Nightmare" will discuss the legal, regulatory, political, and scientific challenges of addressing unregulated chemical contaminants in drinking water on March 31st.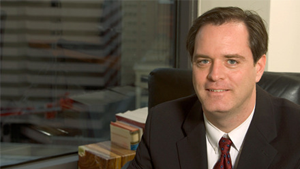 Robert Bilott, who was recently dubbed "DuPont's worst nightmare" by the New York Times, had been a corporate defense attorney for eight years when he took on an environmental lawsuit that exposed a decades-long chemical contamination of drinking water near a DuPont plant in West Virginia.
A partner at the Cincinnati law firm Taft Stettinius & Hollister, Bilott spent his first years as a lawyer defending large corporate clients, specializing in cases involving chemical companies. Yet when a local rancher from Parkersburg, West Virginia named Wilbur Tennant approached him, claiming that a DuPont landfill adjacent to his farm that was supposed to be non-hazardous had killed many of his cows, he decided to take the case.
However, what began as a simple lawsuit involving dead cattle developed into one of the most significant environmental class-action lawsuits in US history, as Bilott learned that DuPont had dumped thousands of tons of sludge laced with an unregulated chemical named PFOA (perfluorooctanoic acid, or C8) that entered into the water supply of Parkersburg and neighboring towns. He also discovered that DuPont knew PFOA posed significant health risks, and set up the Parkersburg landfill, using 66-acres of land it previously purchased from Tennant's family, for the purpose of removing the toxic sludge from its own property.
Bilott's discoveries led to a class-action lawsuit against DuPont that he filed in 2001, on behalf of 70,000 residents of West Virginia and Ohio that had been drinking water containing high levels of PFOA for decades. Even after DuPont settled the class-action suit in 2004, agreeing to install filtration facilities in the six affected water districts and pay a cash settlement of $70 million, he decided to press forward. To date, 3,535 plaintiffs have filed personal-injury claims against DuPont. Bilott is currently getting ready to prosecute the third.
Next week, Bilott will give a talk at the Stigler Center about the legal, regulatory, political, and scientific challenges of addressing unregulated chemical contaminants in drinking water. The talk will take place on March 31st, at 5:00 PM.
Disclaimer: The ProMarket blog is dedicated to discussing how competition tends to be subverted by special interests. The posts represent the opinions of their writers, not those of the University of Chicago, the Booth School of Business, or its faculty. For more information, please visit ProMarket Blog Policy.